Tennis 4 Cancer
November 11 @ 8:00 am

-

5:00 pm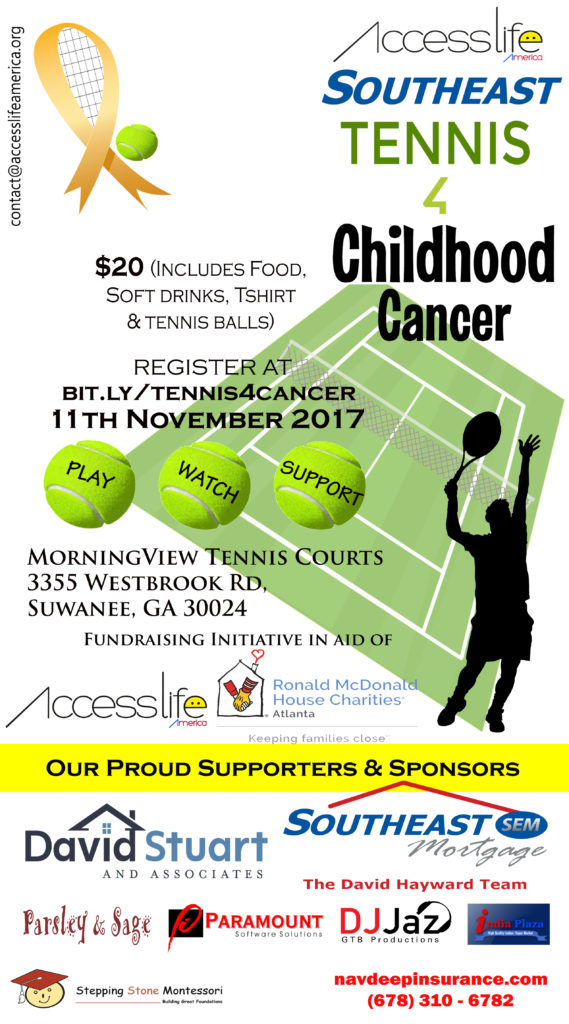 Game Rules
Only beginner to intermediate (3.0 to 4.5)
This is an open tournament. No seeding. No categorization between beginner, intermediate and advanced players
Tennis Match Format: (2 Sets)

(Each Set will be best of 7 games) – Example: Any individual/team reaching 4 games will be declared the winner of a set. (The set will end if the scores reach any of the combinations 4-0,4-1,4-2,4-3)
If each participant/team wins 1 set each, there will not be a 3rd set. The tie-breaker will be played to decide the winner.
Tie-breaker Rules – Team/Individual who reaches 7 points with a difference of 2 points or till there is a difference of 2 points wins the game.
If team A serves first in the first set, then team B will serve first in the second set.
Event Details
Event is on Sat, November 11th, reserve day Sat, November 18th due to rain or unforeseen circumstances.
If it partially rains out, the tournament will continue on November 18th.
Registration closes on previous Sunday (11/5) at 11:45 PM.
Every player has to arrive 30 minutes prior to their scheduled timings which will be sent out 2-3 days prior to Nov 11th.

Check-in at the desk prior to the event
If the player is not there at the specified time & the opponent is on the court, the
opponent is declared winner.

The game is an honor system. In case of disputes, the program director will make the final
decision.
A player can play either singles or doubles but not both.
If both days are rained out, ALA can either refund or provide a receipt for charity.
Prize distribution will be done right after the final game.
Light lunch, water, Gatorade will be provided.
Organizers from ALA will do lottery to arrange games. Emails will be sent out to the participants
2 days prior to the event with the detail timings.
Organizers can cancel the event or any of the format (singles or doubles). Refunds or Receipts can be issued for the same.
Program Director's decision will be final .